As an Amazon Associate we earn from qualifying purchases.
Grilled chicken is a dining table staple and an everyday favorite of non-vegetarians. So, waiting for the right season to grill outdoors or opting for takeaways every time is not a feasible option. Therefore, it is better to learn how to grill chicken inside the confines of your home!
How to Grill Chicken Inside
You don't need an advanced microwave or electric grill skills to know how to grill chicken inside. However, you need to prepare beforehand for the smoke that comes if you don't use an oven. With my guide, a pan will be enough: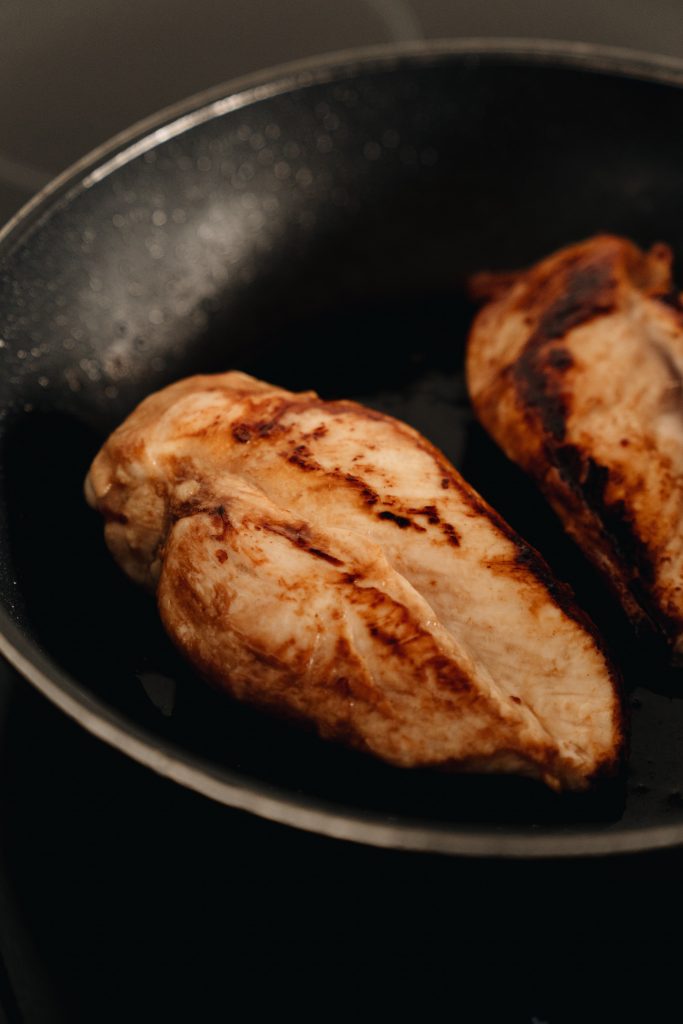 Method 1: Grilling Chicken On Stove Top
You don't get the opportunity to use an outdoor grill all year round. Hence, grilling chicken on the cooktop is one of the best options.
Step 1: Get The Supplies
Get a heavy-duty grill pan. You can get a cast iron pan with ridges for this purpose.
You will need tongs to turn the sides of chicken breasts.
Get the essentials for making the seasoning mix.
Get the favorite herbs or spices that you want to add to your grilled chicken.
Buy boneless chicken breasts.
Arrange for sugar, olive oil, salt & pepper, garlic powder, cumin, and dry oregano.
Step 2: Prepare The Pan & Chicken For Further Grilling
First, combine all of the dry seasoning mixes in a small bowl.
Add chicken to the bowl, and season both sides.
Heat the heavy-duty grill pan for about 2 to 3 minutes.
Lower the heat to medium-high and add oil to the pan.
Make sure the pan is appropriately oil-coated.
Step 3: Add Chicken Onto The Pan
Now, add chicken breasts onto the pan.
Cook the first side for 5 to 6 minutes without moving.
Flip the chicken, and you can notice that the first side has grill marks.
Now, let the second side cook for around 5 to 6 minutes.
Turn the heat off and let the chicken breasts rest in the pan for 5 minutes.
Cut the breasts, and voila! You are ready to serve.
Sprinkle lime or lemon for additional taste and flavor. (Optional)
The lady in this video has explained the indoor grilling process over a pan articulately. You can check this out for better visualizations.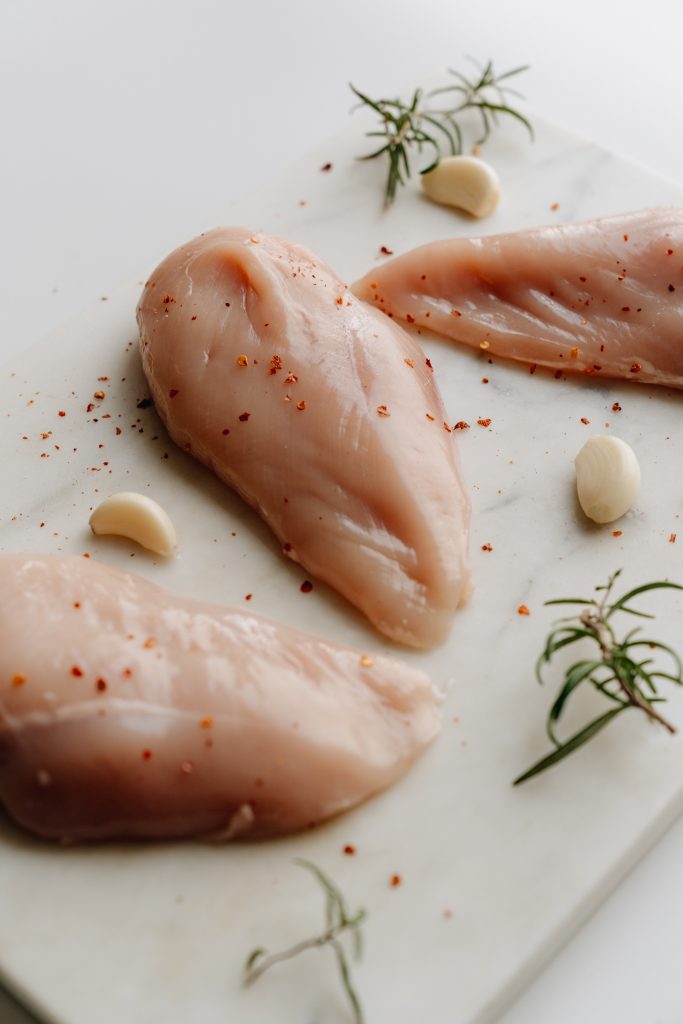 Method 2: Grilling Chicken Without A Grill Pan
Not everyone has a desirably sized grill pan to manage chicken grilling on the stoves. However, by following this method, you can make a large quantity of grilled chicken without using a grill pan.
Step 1: Arrange All Your Supplies
Buy chicken breasts and cut them into pieces or strips (as preferable).
You will need olive oil or any other choice of oil.
You will also require garlic powder, salt, and pepper for taste.
Get aluminum foils, too.
Arrange for a baking sheet, broiler pan, or pan.
Step 2: Start With The Cooking
Spray the pan or baking sheet with oil.
Turn the broiler high. 
Place the chicken breast strips over the pan. 
Make sure the chicken strips are of similar sizes for even cooking.
Sprinkle garlic, pepper, and salt on the chicken and rub it over. 
Cook the chicken for seven minutes, turn it over and then cook for another seven minutes.
Check if the chicken is cooked or not by cutting it in half and examine the pink color. Now, you can turn off the oven and take them all out. If not, then let it sit for some more time. 
Tip!
Make sure that the oven rack is placed correctly for broiling. Moreover, the cooking time might also vary depending upon the thickness of chicken strips.
Tips For Perfect Grilled Chicken
Pick The Right Chicken Cut
This is super important to consider depending on how much cooking time you've at hand.
That's because the larger the cut (like chicken breasts, whole legs, or whole chicken), the longer it'll take to cook.
Prep Your Grill Well
Like any other kitchen appliance, you also need to maintain and clean a grill regularly.
Before you go in with the chicken, preheat the clean grill and rub some oil on the grates, so the chicken doesn't stick.
Pound Skinless/Boneless Chicken
Skinless and boneless chicken can be slightly tricky to grill because of the uneven shape.
If you pound the thicker ends, not only will it cook evenly but also save cooking time.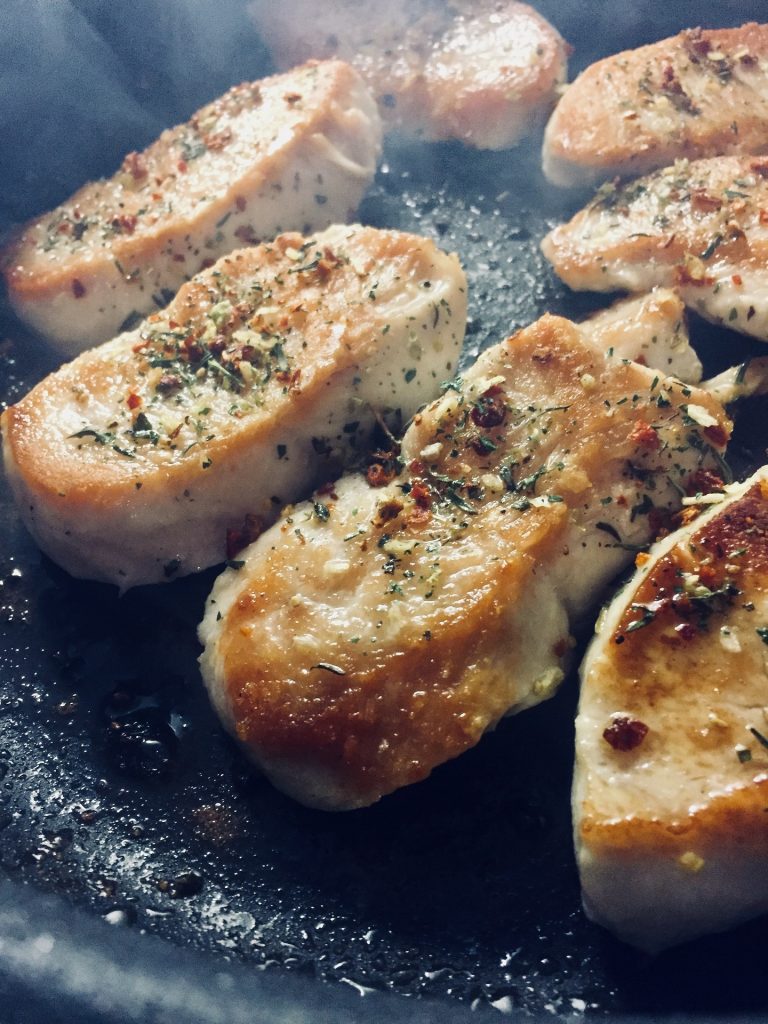 Add Flavor Before Grilling
To lessen your work as the chicken grills, add some marinade to it before you start grilling. It may take a little more time, but the end flavor will be worth it.
Baste Often And At The End
Don't add the sauce at the beginning of the cook as it can burn. Instead, glaze the chicken with some sauce about 15 minutes before it's done.
Turn the chicken, and baste the other side.
Cover The Grill
If you don't cover the grill, it takes longer to cook, lose heat, and, in turn, waste fuel. Covering it also helps cook the meat thoroughly on all sides.
Use A Thermometer
Unless you don't have an instant-read thermometer, try to use it every time you grill chicken or any other meat.
Insert the thermometer into the thickest part of the chicken (without touching the bone).
Frequently Asked Questions
What Is The Ideal Temperature For Grilling Chicken?
The ideal grill temperature for grilling chicken should be around 350°F. At this temperature, you will get proper juicy and flavorful grilled chicken from edge to edge. You can use an internal thermometer for checking the chicken temperature while it is cooking.
What Are The Recipes That I Can Try With Grilled Chicken?
Some popular recipes you can try out with grilled chicken are chicken breast wrapped with bacon, grilled chicken breast with chili lime, and others. To know more details about these recipes, go through this post.
Conclusion
Follow these above methods, and you will get a clear insight into how you can grill chicken indoors. Even though you do not have a grill or lack some essentials, you can still satisfy your taste buds with delicious grilled chicken.