As an Amazon Associate we earn from qualifying purchases.
I mostly see fish sticks in supermarkets' frozen food sections. However, you can learn how to cook fish sticks in the comfort of your home. If you like seafood, this is a quick and easy meal you can make at home.
How to Cook Fish Sticks
Cod, catfish, halibut, and even tilapia can do the trick. These homemade fish sticks are incredibly simple to prepare. They're so good that you won't miss the store-bought stuff. Serve with a spoonful of homemade tartar sauce and enjoy.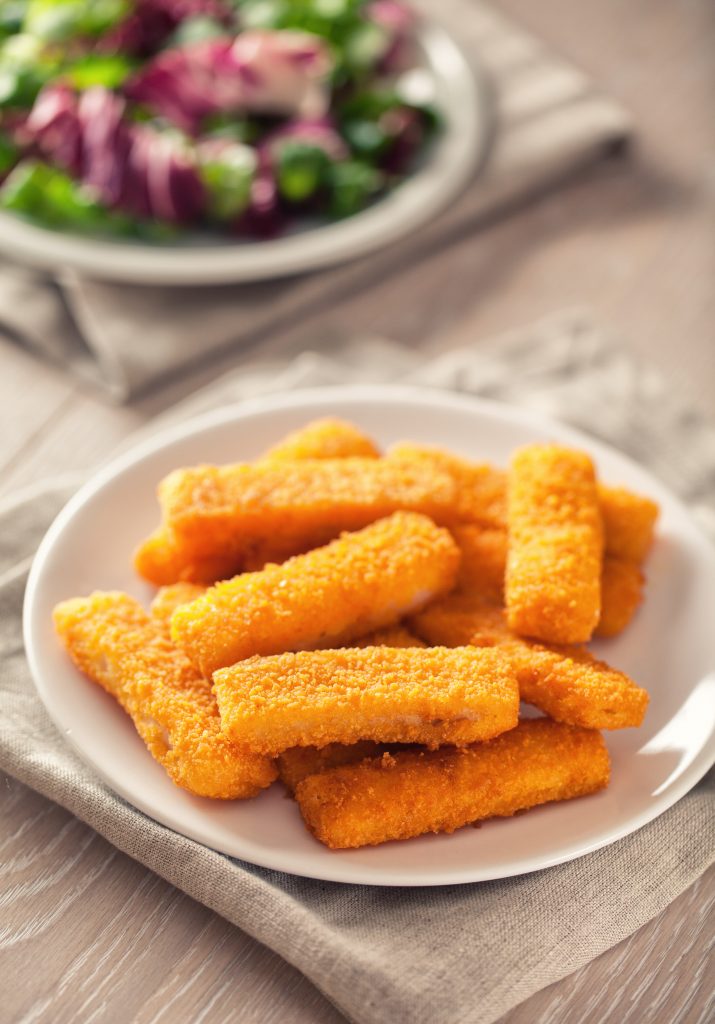 These simple handmade fish sticks are soft on the inside and crispy on the surface. Thanks to a bit of salt and the parmesan crust, they're pretty tasty. A solid and beefy white fish like halibut or cod is the obvious choice most of the time. However, I'm opting with salmon fish fingers (any alternative is acceptable).
Ingredients
The following items will help you in the preparation of crispy fish sticks.
Fish: Use a solid and succulent fish fillet (center-cut piece 1 to 1.5 inches thick). Ensure you remove the skin. Use a 1.5-pound salmon, although, as I previously stated, a solid white fish fillet like halibut or even cod will suffice.
Seasoning: Besides kosher salt, paprika, oregano, and black pepper will give the fish sticks a fantastic flavor.
A dredging station: A dredging table will have different ingredients to cover the fish to achieve that gorgeous, crispy layer. Flour is in one dish, and another bowl has an egg and one tablespoon of water. Use a mixture of bread crumbs and grated Parmesan cheese in the third dish.
Lemon juice and zest: Add the zest as soon as the fish comes out of the oven, along with lemon juice to taste (half-cup lemon juice is appropriate). Citrus and fish go together like a fantasy, and these small salmon fish sticks are no exception.
Garnish: Sprinkle with fresh parsley if you have it.
Fish fingers sauces: Serve with tahini sauce, tzatziki sauce, or tartar sauce, if available.
How to Prepare Fish Fingers in the Oven
Begin by slicing the salmon fillet into 3/4-inch wide strips. Prepare three shallow dishes for the breading station for breadcrumbs, flour, and egg. Cook until golden brown in a skillet or the oven. To cook fish sticks in the oven will take you approximately twenty-five minutes.
Heat the oven and season the fish: Preheat the oven to 450 degrees Fahrenheit with a rack in the middle. Then, pat the fish dry and sprinkle both edges with salt. Slice the fish into 3-inch chunks or sticks. Garnish the fish fingers on both sides with one teaspoon of black pepper, sweet paprika, and oregano.
Establish a dredging station: One bowl should have gluten-free or all-purpose flour. Another dish should have the egg wash, which is a mixture of water and egg.  Finally, combine bread crumbs and grated Parmesan cheese in the last dish. (The lime zest in the bread crumb dish is not to be mistaken. At this point, you don't need to mix it. After you bake the salmon fish sticks, you can use the zest to finish).
Cover the fish sticks: Grab each fish stick and gently cover it with flour. Remove any extra flour from the fish stick before dipping it in the egg wash. Finally, roll the fish stick in the bread crumbs and Parmesan cheese mixture. Place the coated fish sticks on a baking tray that you have greased (the oil on the baking sheet ensures that the bottom of the fish sticks becomes nice and crispy). Apply extra virgin olive oil on the top of the fish sticks with a brush.
Bake: Bake for twelve to fifteen minutes, or until done, in a preheated oven. If the fish sticks need a little more color, place the pan under the broiler for a few seconds until they turn an excellent golden brown color.
Serve: Place the fish sticks on a serving plate and serve. Toss with a pinch of lemon zest and a dash of lemon juice. Garnish with a sprig of fresh parsley and serve with your favorite dipping sauce.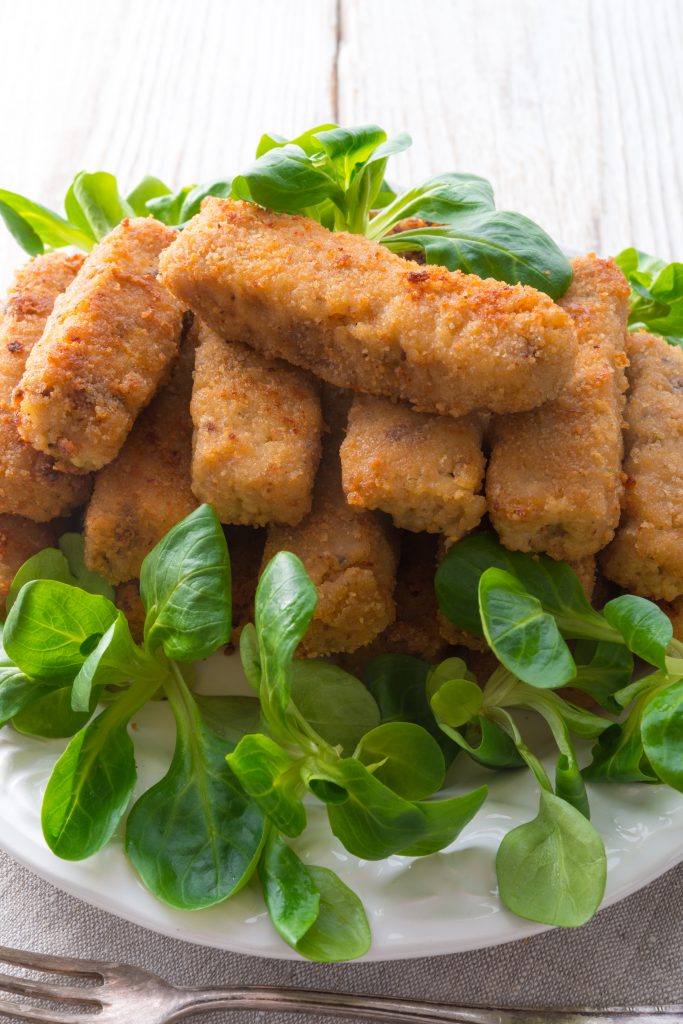 Health Benefits of Fish Sticks
I base the following health advantages on 150 grams of standard fish sticks:
Iodine
Vitamin B12
Selenium
Proteins
Iodine
150g of fish fingers can provide your body with 105 percent of its daily iodine requirements. Iodine is an essential ingredient that helps maintain hormone levels, assist metabolism, promote growth, aid reproduction, and form a healthy thyroid.
Vitamin B12
Vitamin B12 is essential for converting protein and fat into energy and protecting the body from cancer and heart disease. According to nutrition experts, a meal of 150 g of fish fingers would deliver 63 percent of your daily vitamin B12 requirement.
Selenium
Selenium is another crucial vitamin that helps promote immunity and can also help manufacture several antioxidants that protect the body from damage by free radicals and swelling. Selenium is also vital for keeping a healthy metabolism.
A 150g serving of fish fingers can provide you with 52 percent of your daily selenium requirements.
Proteins
I usually cook fish fingers using pollock, haddock, or cod, all white fish high in protein, niacin, and vitamin B-12. According to the National Nutrition Database of the United States Department of Agriculture (USDA), fish fingers include roughly 3 grams of protein per stem.
As a result, one serving of five fish fingers contains approximately 15 grams of protein. Protein aids in weight management, increases satiety, and the growth and repair of muscular tissue, among other things.
6 Tips for Cooking Fish (so it Actually Tastes Good!)
Final Thoughts
Fish sticks, with just a little sauce for dipping, are an easy pick for a snack. Forget about store-bought frozen fish fingers; knowing how to cook fish sticks is simple and requires only a few items. It would help if you opted for fish sticks because of their health benefits.