As an Amazon Associate we earn from qualifying purchases.
Sous vide cooking is a great way to get simple, delicious results in the kitchen. This type of cooking is food prepared in a vacuum-sealed bag and cooked using immersion circulators.
A popular alternative to vacuum-sealed bags is to use a heavy-duty plastic bag and submerge it in water to force all the air out. While both methods work well, they consume large amounts of one-use plastic products as you must keep buying bags for every use.

Silicone sous vide bags can be used indefinitely and are a great alternative for plastic freezer bags, sandwich bags, and vacuum bags. So out with the single use plastic bags and in with reusable silicone bags. In this article, I'll be looking at the best silicone bags for sous vide cooking.
Brand
Platinum Silicone Food Grade Reusable Storage Bag
Platinum Pure Large Reusable Sous Vide Bags
Homelux Theory Reusable Silicone Food Storage Bags
Product
Closure Type
Enclosed silicone fastener
Brand
Platinum Silicone Food Grade Reusable Storage Bag
Product
Brand
Platinum Pure Large Reusable Sous Vide Bags
Product
Closure Type
Enclosed silicone fastener
Brand
Homelux Theory Reusable Silicone Food Storage Bags
Product
Top Silicone Bags for Sous Vide Review
For the best silicone bags for sous vides I am looking at silicone bags with an excellent food safety rating, durable construction, self sealing construction, and a fully functional variety of sizes and shapes for whatever food you want to throw into them. While most immersion circulators will not boil water, the best bags will work safely at high temperatures.
Stasher Platinum Silicone Food Grade Reusable Storage Bag
Stasher re-invented the game with their Platinum Silicone Food Grade Reusable Storage Bag. An environmentally focused company, their goal is that for each bag sold, Stasher eliminates thousands of traditional plastic bags from my landfills and oceans. When you think of the best silicone bag, you immediately think of Stasher. With the highest-rated LFGB Pure Platinum Silicone (one of only two on this list), sturdy design, and various sizes and shapes, Stasher bags are my favorite for best silicone bags for sous vide. 
With one of the most reliable self sealing systems on this list, their trademark Pinch-Loc system is leak-free, easy to force air out during sous vide prep, and keeps water out during cooking. I particularly love the stand up bag for being easy to fill and store different meals in. And, the variety of shapes and sizes means you can match up the right bag for the right dish. 
For the quality and variety, unfortunately, you do sacrifice size. This kit does not include a gallon or larger size, so if you are looking to sous vide an entire roast, this will not be the right fit for you. 
Pros
LFGB certified Pure Platinum Silicone (highest rating)
Withstands high temperatures up to 425°F
7 piece system covers almost anything you would use single use plastic bags for
Stasher bags have a Pinch-Loc system for sealing your food in and air and water out
Dishwasher safe
Cons
No gallon size and oversize bag option in this kit
Premium pricing compared to other recommendations on this list 
Stasher Reusable Silicone Storage Bag, Food...
CONTAINS: (7) Stasher Reusable Silicone Bags in the color Clear. Includes (1) Half Gallon (64 Fl...
PRESENTING THE ULTIMATE BUNDLE: Bring the whole Stasher family with this platinum silicone storage
REUSABLE, REWASHABLE, RELOVABLE: Safe for the dishwasher, microwave, oven (up to 425°F), and more,...
Platinum Pure Large Reusable Sous Vide Bags
Platinum Pure Large Reusable Sous Vide Bags are a great general-purpose option for those looking to move away from plastic. They are LFGB rated pure Platinum (one of only two on this list) and can withstand high temperatures up to 425°F. 
If you are looking for a simple one size fits all approach for sous vide bags, this is the page system. Unlike the Stasher system, which aims to match tailor-fit loads for each purpose, the Platinum Pure Large Reusable Sous Vide Bags comes with two 1-gallon bags that will fit almost anything you need them. Because these bags are thinner and open-topped, they rely on water pressure to force air out from the food. 
This means the more water you have in your vessel, the better the seal is under higher water pressure. The open-top also means you must keep the top of the bag above the water line to prevent soaking your food. You may want to invest in clips or ties to ensure the bag doesn't slip into the water (ruining your food).  
Pros
LFGB certified Pure Platinum Silicone (highest rating) 
Withstands high temperatures up to 425°F
1 gallon size fits almost anything you can think of
Excellent general-purpose size and shape
Dishwasher safe
Cons
Thin material 
Only 1 size bag must be used for everything
Cannot be fully submerged
Vacuum seal is dependent on the amount of water your container holds 
Platinum Pure - Large Reusable Sous Vide Bags -...
NOT ALL SILICONE IS CREATED EQUAL: 100% Platinum Pure LFGB silicone with No FILLERS – Surpasses...
THE ORIGINAL SILICONE SOUS VIDE BAG: Extra-large capacity and extra wide mouth is designed...
THIN DESIGN FOR SUPERIOR COOKING: Silicone bag provides heat exchange and superior air displacement...
Homelux Theory Reusable Silicone Food Storage Bags
An excellent value for switching from plastic to silicone is the Homelux Theory Reusable Silicone Food Storage Bags. With an FDA-certified food-grade rating and safe for temperatures up to 428°F, the Homelux bags are a wonderful addition to any kitchen. 
While not as highly rated as the LFGB Pure Platinum bags on this list, FDA certification is plenty good for home food prep. What makes the Homelux Theory Silicone bags great for sous vide? Their Airtight Safe Zip Seals, while a two-piece system (meaning you need to take care not to lose any pieces), the seals are strong enough to hold a bag of soup upside down without the contents spilling out. 
The sizes of bags range from 500ml to 1.5L or roughly sandwich to a half-gallon extent. At 1.5L, you certainly won't be cooking a turkey, but you can make short work of most weeknight dinners and anything proportioned out.  
Pros
Variety of Sizes with 1.5L and 500ml options
FDA certified food grade
Airtight safe zip seal 
Measurements on the bags
Great value for the variety of sizes
Cons
No gallon size or larger bag
FDA is a lower grade than LFGB Pure Platinum
Airtight safe zip seals are a separate piece that can be lost
HOMELUX THEORY Reusable Freezer Bags, LEAKPROOF,...
⭐Ideal combination- In this set of silicone bags for food storage, you'll find 2 Large (1.5L/...
⭐Keep your fridge & Kitchen organized- Homelux Theory silicone freezer bags are an excellent...
⭐Our quality – Premium reusable food storage bags guarantees superior user experience. Unlike...
Zessti Gallon Silicone Bags
A great alternative to plastic bags is the Zessti Gallon Silicone Bags. If you are just getting started with sous vide cooking and don't want to invest in tons of Ziploc bags, Zessti is for you. With gallon size capacity, these are the most common size bag recommended for sous vide cooking. 
On the flip side, you will only have one size bag, so you need to use it for all foods, big and small. The bags are airtight and similar to ordinary freezer bags, but include an extra clip to reinforce the seals. This is good security and peace of mind, but since it is a two-piece construction, you cannot lose the clips. 
These bags are also decently thick compared to the others on this list, making them a good option for food with rough edges and or bones. There are no fancy stand-up systems or premium certificates like LFGB. Zessti is not looking to reinvent the mold, just replacing the need for disposable plastics. 
Pros
Gallon size
Heavy duty
Airtight seals
Simple entry-level product and price
Cons
Only one size bag
No premium certifications 
Two-piece sealing system
Gallon Silicone Bags Reusable Silicone Food Bag...
👍 Safe & Healthy to be used for your family- your leftover food will be safe due to the fact.
👍 This Product is Eco-Friendly - It can be used to store lunch food, sandwiches, meat, fruits and...
👍 Upgraded Size – You'll find extra large (1 Gallon/ 16 cups/ up to 4L) silicone food bag...
Features to Consider for Sous Vide Silicone Bags
Compared to other cooking methods, sous vide recipes will help keep juices locked, food's nutrients in, and cook temperatures spot on. While vacuum sealer bags are the gold standard of cooking in sous vides, not everyone has access to vacuum sealers.
Cooking bags need to be food safe and free from harmful chemicals like BPA. The best sous vide cooking bags can go from freezer to fridge to sous vide and back with little to no difficulty (try doing that with your standard plastic bags). The best bags will keep your food fresh, prevent freezer burn, and be dishwasher safe. Below are some of my criteria for picking the best silicone bags to replace your vacuum sealer and Ziploc bags.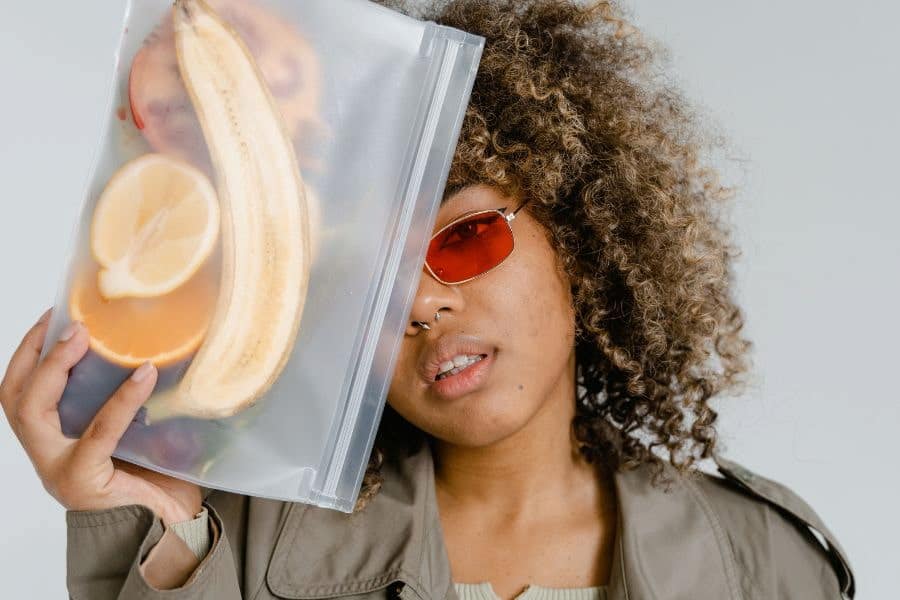 Food Grade Certifications
There is no point buying silicone sous vide bags if they aren't safe for food. Two main bodies that certify food-grade silicone are the FDA in America and the LFGB in the EU. While either certificate is plenty for you to start using silicone products for your sous vide bag, the LFGB certificate is a higher testing standard.
The LFGB certification will be more associated with premium "platinum silicone" and, due to higher testing costs and standards, will cost more to the consumer.
Design and Intended Use
It is important to remember that the market for silicone bags is as diverse as the market for single use plastic bags. Silicone is only the name of the material; it does not mean it is meant for anyone's use and does not guarantee anything on its own. This means some silicone bags work great as a reusable alternative to plastic sandwich bags.
While there are other silicone bags made just for food storage. When purchasing silicone sous vide bags, you want a bag with food certifications, heavy-duty enough to deal with bones, waterproof enough to prevent contact with your food, and if it can store food, that is a great bonus.
Size and Shape
While you may think of sous vide cooking bags as a one-size-fits-all ordeal, it isn't. If you have ever tried to cook a roast, turkey leg quarter, tomahawk steak, or any other weirdly shaped meats, you know a gallon size bag does not always work.
Depending on what you want to cook and whether it needs to be fully sealed or fully submerged, you will likely want to get a variety of bag sizes. In general, sizes range from sandwich bags up to roughly a 2 gallon or elongated 10+ inch wide bag.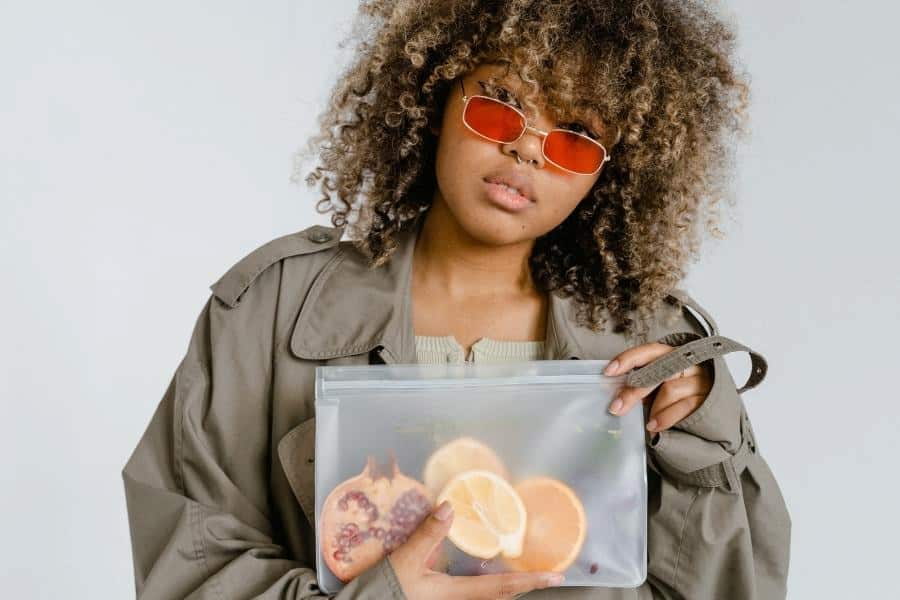 Frequently Asked Questions
Are Silicone Bags BPA Free?
Food-grade silicone bags are BPA-free, latex-free, contain no lead or phthalates, and are a great eco-friendly option for prepping, storing, and cooking your food sous vide. 
Do I Need to Seal My Bag When Cooking Sous Vide?
No, sealing the bag is only required if you intend to submerge it during sous vide cooking thoroughly. If your bag is large enough, you can hang the open side over the edge of your cooking vessel. Ensure you secure the bag so the open side cannot fall into the water.
Are Silicone Bags Safe for Sous Vide?
Silicone is a very well-regulated industry by the FDA and LFGB. Silicone is an excellent material for safe, easy, reusable sous vide cooking bags. Silicone can withstand heat well into the 400+ Fahrenheit range and contains no BPA, Latex, or PVC.
Are Silicone Bags Leak-Proof?
"Silicone" only describes the material that the bag was made out of, not the design or intended use. There are plenty of bags for sous vide on the market; just make sure you buy one designed to be leakproof at the seals and designed for sous vide cooking. For example, zipper topped bags are poor choices for bags you intend to submerge fully.
Conclusion
The days of single use plastic bags are over. Silicone bags are a great eco-friendly reusable alternative to plastic bags like ziplock, vacuum bags, and freezer bags. The right bags for sous vide cooking that use immersion circulators will have food safety certificates from FDA or LFGB. They will be BPA free, free from harmful chemicals, microwave safe, can withstand high temperatures, and will be dishwasher safe.
Featuring all these criteria and more are Stasher's Platinum Silicone Reusable bags. These Stasher bags are my recommendation for the best silicone bags for sous vide. If you are serious about using sous vide or just want some solid eco-friendly food storage, look no further than Stasher reusable silicone bags to replace your ziplock bags, storage bags, and really any other single use plastic bag.